Who We Are
Founded in 1994, Bully Tools has been proudly producing 100% Made In The USA products assembled by American workers. We control our quality and costs with in-house manufacturing from our state-of-the-art facilities designed and built in 2006 in Steubenville, Ohio.

Our in house operations include robotic welding, metal forming & stamping, plasma cutting, heat treating, tempering, injection molding, powder coating, product design, and much more! This not only guarantees the quality, durability and reliability of our products, but our future as well.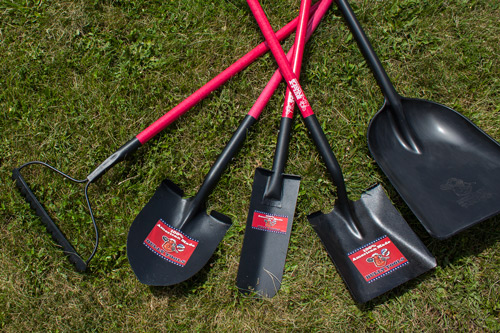 100% Made In The USA
What do we mean by 100%? All of our products and product materials are made right here in the USA, and assembled by American workers out of our state-of-the-art facilities in-house manufacturing plant in Steubenville, Ohio!

By committing ourselves to staying 100% Made In The USA, our company and our customers will always benefit in the most positive ways. This includes strengthening our country's economy, providing jobs and fair wages to employees, conserving the environment without the use of overseas transportation, and bringing you the highest quality products available on the market. We extend our thanks to everyone supporting 100% Made In The USA products!
Our History
Bully Tools has been proudly producing 100% Made In The USA products since 1994, starting out in a small 1500 square foot building space in Pittsburgh, PA after being founded by our President and CEO, Mark Gracy.

"It all started with one product idea 25 years ago. I was involved in developing a unique shingle remover that I thought I could sell. My problem was I had little funding and no one to do the manufacturing. One baby step lead to another, there was a lot of trial and error, and I basically had to learn how to manufacture products without a playbook. Many long hours of work and sleepless nights but somehow I was able to survive another day. I had quit my job as a building inspector for the City of Pittsburgh and took my small life savings and rolled the dice. I couldn't have done it with the support of my high school sweetheart, best friend and wife. There is an old Kenny Rogers Song "She Believes in Me." It reminds me of her every time I hear it."

In 2006, Bully Tools built a new factory in Steubenville, Ohio, about 35 miles west of Pittsburgh. Although it was a bittersweet move from hometown, Pennsylvania's tax structure, workers compensation program, utilities cost, and political climate were unfriendly to manufacturing. Ohio was very accommodating and helped finance the expansion with the promise of job creation, and Bully Tools quickly exceeded our commitment and paid back the state in eight years instead of 15.

Finally today, Bully Tools now manufactures over 100 top-quality products found in thousands of hardware stores all across the United States. You may view our products here!