No matter the size of your property or type of home you live in, you should own a rake. After all, a rake's most popular purpose – collecting fallen leaves come autumn – has less to do with yard space and more to do with the number of trees you have nearby.
But, one rake is not suitable for many jobs other than the one it was originally designed to accomplish. So, if you have more than just leaves to collect, read on and learn more about the most popular styles of rakes.
RAKE CONSTRUCTION
Most lawn and landscaping rakes are assembled with two pieces: a rake head and a handle. Modern rake heads are made out of either a high-tempered metal or strong plastic and have multiple tines that extend from the handle. The configuration of the tines is dependant on what the rake was designed to accomplish. For example, a lawn and leaf rake has a large rake head with plastic tines that fan out. This allows the tool to cover more ground than other rakes, while it picks up any leaf or lawn debris caught underneath. A level head rake, on the other hand, has tines that angle down at a sharp 90-degree angle. The tines are tall and allow material to flow through as you spread, and when flipped over, the flat edge allows you to smooth the material as well.
Rake handles are typically made out of fiberglass, wood, bamboo, or plastic. Of these materials, fiberglass and wood are the strongest with the former being the most long-lasting, but plastic or bamboo are lighter options.
TYPES OF RAKES
Before you buy a rake, you need to know which rake is best suitable for the material you will be working with.

LAWN AND LEAF RAKE
As the name suggests, lawn and leaf rakes work incredibly well to rake grass and fallen leaves. Lawn and leaf rakes are constructed from lightweight plastic so that they can swiftly move through blades of grass without damaging them as you work. The rake tines are curved, sometimes in more than one spot, so that they don't spear fallen leaves. The curve also enables users to collect and hold as many leaves as possible without them spilling out the sides – leaving you an even bigger mess.
BEST RAKE FOR LAWN & LEAVES
---

THATCHING RAKE
Thatching rakes feature a row of tempered steel tines, much thinner than that of a lawn and leaf rake. They are incredibly lightweight, and as you move across your lawn to dethatch, the steel tines flex lightly so you know you're grabbing as much material at the grass spades' roots as possible. Each tine is individually welded to a "T" shaped neck that connects to the tool's handle.
BEST RAKE FOR THATCHING GRASS
---

SHRUB RAKE
Shrub rakes are similar to thatching rakes in design, but they have much narrower heads. This rake is typically sold with a short handle, though sometimes it may come with a long handle that provides a further reach. The short length makes the tool incredibly lightweight and portable, and the narrow head fits easily under shrubs and in tight spaces to rake up fallen leaves and other lawn debris. They are also helpful in clearing off cut shrub branches after you prune.
BEST RAKE FOR SMALL SPACES & PRUNING
---

BOW RAKE
Bow rakes are great tools for any sized project and are a staple among landscaping and contracting businesses. You may know this rake as a garden rake, and as this name suggests, its metal tines work soil well. Bow rakes are also ideal for raking and spreading loose material like mulch, stone, gravel, asphalt, and dirt. The head of a bow rake has a row of curved, indented teeth that can latch onto chunks of materials with ease, while the other side is flat for leveling the surface. The tool is incredibly strong, but the bowed pieces give the perfect amount of flex and spring as it moves through material.
BEST RAKE FOR GARDENING & MOVING LOOSE MATERIALS
---


LEVEL HEAD RAKE
A level head rake, also referred to as a flathead rake, is another tool that you can use to spread loose material. This product also serves two purposes (like the bow rake) – one side for spreading and one side for smoothing.
BEST RAKE FOR LEVELING MATERIALS
---
LEAF SCOOPS
Leaf scoops are a relatively new invention designed to help with the disposal of dead, autumn leaves. The scoops are round and have spiked teeth that grab and hold onto leaves, sticks, and other lawn debris. Once you rake everything into a pile, simply bend over and grab as much as you can with the leaf scoops. The scoops are narrow enough to fit the top of most commercial garbage cans but are large enough to seriously collect a large number of leaves. Plus, you can even use the tool to condense the pile you're collecting – creating more space and fewer trips to dump!
BEST OPTION FOR COLLECTING LEAVES & DEBRIS
---


STONE RAKE
Stone rakes have a similar appearance to level-head rakes, but stone rakes have tall, widely spaced tines built to comb through and remove anything that litters your gravel or stones. The tines' height helps them to graze over the top of stones to collect fallen leaves, twigs, or weeds. Stone rakes also feature a flat side for smoothing the stone once finished.
BEST RAKE FOR REARRANGING STONE OR GRAVEL
---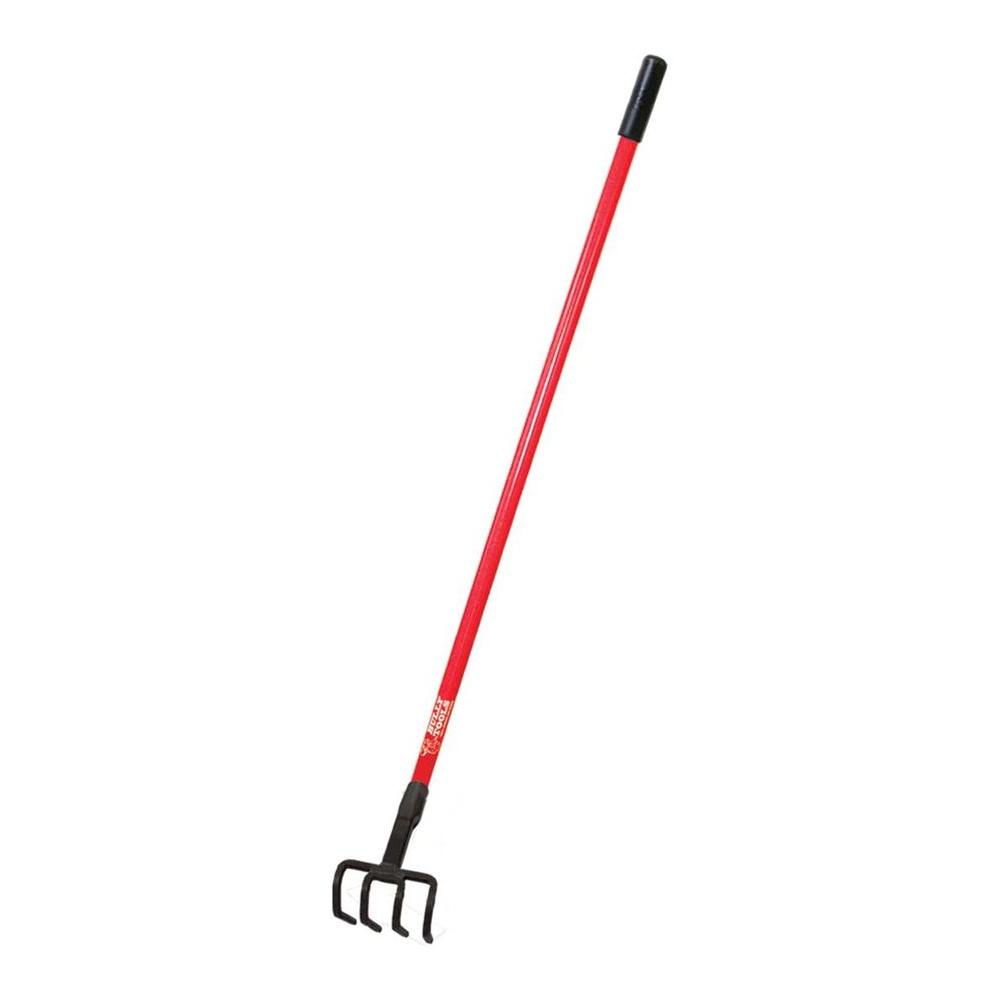 HAND CULTIVATOR
A hand cultivator, sometimes called a hand rake, is essential for any green thumb or gardener who's looking to get up close with the earth. Most hand cultivators have steel tines, though you may find some made out of plastic, and they typically have very short handles. The short-handled version fits easily in a tool bucket, but some manufacturers (including 100% Made in the USA Bully Tools!) create cultivators with long handles. The long handle allows users to extend further and gather material farther away from them. But with either style of handle, the narrow head of the cultivator makes the tool perfect for quick garden touch-ups or working in small areas.
BEST RAKE FOR CULTIVATING SMALL SPACES
---


ROOF RAKE
A recent, genius invention is the roof rake. A roof rake is a combination of a rake and a snow shovel and is designed to remove excess snow off of a roof or awning. Most have a flat, smooth blade made out of hard plastic or aluminum and a long, extendable handle that allows users to gently pull packed snow off of high surfaces without leaving the ground.
BEST RAKE FOR REMOVING SNOW
MATERIALS YOU SHOULD RAKE
Chances are, you have seen a rake used to move more than just leaves. Rakes are essentially outdoor brooms that collect anything that may litter your lawn, mulch beds, gravel patches, or garden.

GRASS
As the seasons change, your grass moves from actively alive and green to dormant. Dormant grass is not dead grass, even though it may appear to be, and will come back every spring. An important step in maintaining the health and longevity of your lawn is to dethatch. Thatch is a natural organic material that develops on lawns over time and is an accumulation of living and dead plant matter. Homeowners should dethatch their lawn, or remove the excess thatch, about once a year. To dethatch, simply rake down the length of your yard. The thatch will separate easily from the living blades, and you can then rake the thatch into a pile and dispose (or save and use for fertilizer!).
BEST RAKES FOR GRASS
SOIL
The soil below our feet is bursting with nutrients, plant matter, and organisms that enable us to grow plants and food, but the benefits your soil provides need to be resurfaced often. Raking soil in a garden plot, crop field, or shrub bed is important because the action breaks large chunks of soil into its smaller compounds. To prep your soil for planting, the most important step is to loosen the top 8 to 12 inches of soil. This allows any plants you grow to have ample, loose space to grow through. However, it is imperative that you do so gently. Rototillers dig through soil so fast that they kill beneficial organisms and flip the underground ecology too aggressively rendering them useless. If you use a rake on your soil, you have a better chance of keeping those properties intact while still bringing the fresh nutrients to the top.
BEST RAKES FOR SOIL –
MULCH
Mulch is a popular additive to outdoor landscaping and is often used to cover the soil around plants, in open spaces, and in areas along walkways. The material can come in a variety of sizes and colors, but no matter its form, mulch can easily be spread using a rake.
BEST RAKES FOR MULCH –
GRAVEL
A bed of loose pebbles is a savvy way to add natural elements to your landscape and reduce the amount of grass you have to cut, but it can be bothersome seeing gravel kicked around everywhere. Collecting and redistributing gravel is an easy task to complete with a rake! The rake tines grab onto pieces of gravel and effortlessly move them where you guide the rake to go. Plus, you'll need a rake to collect any fallen leaves or twigs that may find their way to your stone patch.
BEST RAKE FOR GRAVEL – STONE RAKE
SHRUBS
Not too intensely, of course, but a shrub rake is a handy tool to use to dislodge cut branches and loose leaves from the rest of the plant. It's also important not to forget the ground underneath your shrubs! It's easy to since the area is typically not that visible, but always rake up leaves and twigs that have fallen below.
BEST RAKE FOR SHRUBS – SHRUB RAKE
LEAVES
Autumn leaves are beautiful until they start to cause problems on your lawn. When fall rolls around, leaves are bound to accumulate on your property, especially if you have a lot of trees. It's important to collect and dispose of dead leaves before the first snow falls because while leaves are lovely to look at, they actually deprive your grass of sunlight and when mixed with precipitation can stunt or kill patches in your lawn.
That being said, there is another school of thought when it comes to how to dispose of autumn leaves. Organic gardeners may choose to not rake the leaves on their lawn because of the beneficial properties that each leaf could provide to their lawn. If you left your lawn untouched, the leaves would decompose and return their nutrients back to the soil. You can also save leaves to turn them into mulch. Mulched leaves work incredibly well to feed bio-organisms as they aid in the fertilization of lawns, gardens, and planting beds, and they are one of the main components of compost. And, reusing your leaves keeps them out of your local landfills – always a plus!
BEST RAKE FOR LEAVES – LAWN AND LEAF RAKE
SNOW
A well-constructed roof can hold up to 2 feet of snow, but you should not let it accumulate that high. Leaving excess snow on your roof can lead to leaks, ice dams, collapse concerns, and roof drainage problems. A good rule of thumb is to clear your roof after 6 inches of snow or ice accumulates. If you live in an area that receives exceptionally high amounts of snowfall, a roof rake is a good investment. Before winter, make sure that you have all of the tools necessary to prevent any of these issues from occurring, and brief yourself on the 'Top Signs That It's Time to Remove Snow from Your Roof' by PolarMade, manufacturers of the SnowPeeler Snow Rake.
BEST RAKE FOR REMOVING SNOW FROM A ROOF – ROOF RAKE
---
BEFORE YOU BUY
Check out our selection of 100% American-made leaf and bow rakes. We manufacture high-quality hand tools made for contracting professionals and do-it-yourselfers alike, and our entire product line includes over 100 products that work hard so you don't have to.